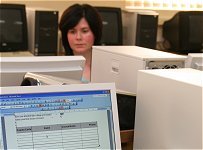 Advanced ICT Certificate in Business
Certification FETAC Business | Level 6
Award Code 6M4985
Introduction
This Level 6 course provides advanced training in Business Management and Administration. The course is only available to students who have successfully acquired their European Computer Driving Licence (ECDL) and successfully completed a minimum of four FETAC Level 5 subjects. The Advanced ICT at Level 6 is composed of several modules, each module is a self- contained unit of study within the programme and is delivered and assessed independently. Modules may therefore be combined flexibly with other modules in order to provide certification.
Duration
A one year course which will run from 9.00 a.m. – 2.00 p.m. The modules are timetabled to suit those with family commitments.
Certification
National Certificate FETAC Level 6 in Business
ECDL Advanced Word
ECDL Advanced Spreadsheets
ECDL Advanced Database
Entry Requirements
All applicants will have successfully completed their ECDL and a minimum of 4 FETAC Level 5 modules.
Career Options
Graduates of this course will be prepared for work in administration or software support in such businesses as Local Authorities, Civil Service, Health Boards, Financial Institutions, Schools, Private Industry, etc.
Further Education Links
Students may continue their studies at Institutes of Higher Education through the Higher Education Links Scheme. For further details see p 14.
Course Director: Carmel Collins
Email: This email address is being protected from spambots. You need JavaScript enabled to view it.
COURSE OUTLINE
Level 6 Word Processing (6N4977), Level 6 Spreadsheets (6N4089), Level 6 Relational Database (6N4785), Level 6 Business Planning (6N4105), Level 6 Business Management (6N4310), Level 6 Communications (6N1950), Personal and Professional Development (6N1949), Advanced ECDL – Word Processing, Advanced ECDL – Spreadsheets, Advanced ECDL – Database